Today was our last day in Portland. After we woke up and checked out of our hotel, we went and got breakfast at Blue Star Donuts. Stephanie had walked by this place (in the evening, when they were closed) the last time she was in Portland doin' some job interviews, and she wanted to be sure and check it out during this visit.
The place was pretty cute and fairly busy; there was a consistent line of 8-10 people the whole time we were there. They had a nice selection of ~15 donuts to pick from ranging from traditional old fashioneds to ultra-fancy blueberry+bourbon+basil cake donuts. After we received our donuts, we went across the street to Heart Coffee Roasters to get some coffee to pair with our sweets. Their espresso had some really strong chocolate/fruit notes. It was a little different, but very nice to drink. The donuts, on the other hand, were somewhat lackluster. My cake was pretty greasy, and Stephanie's frosting was a touch too acidic/metallic. But we ate everything and were happy to have tried some place new.
I had dulce de leche hazelnut donut and Steph had one with passion fruit frosting and cocoa nib bits.
Once we finished stuffing our faces, we drove up to Washington Park. This is a massive (400+ acre) public urban park just a few miles southeast of downtown. It contains a zoo, a sprawling arboretum, a forestry museum, a children's museum, a rose garden, a Japanese garden, and a ton of sports fields/play areas/walking trails. First, we visited the Portland Japanese Garden. Opening in 1967, it has been widely recognized as one of the best, most authentic Japanese gardens in the world (even including gardens in Japan!). I really appreciate traditional Japanese aesthetics, so I was really excited.
The Upper Pond in the Strolling Pond Garden reflects the vibrant foliage.

This garden was really beautiful and probably my favorite part about our visit to Portland. If you're ever in the area, I would heartily recommend checking it out. Upon entering, we were immediately afforded an amazing view of Mt. Hood as it seemingly rose up out of the Portland skyline. I think this was my first trip to Portland where visibility was good enough to enable a view of Mt. Hood. It's quite dramatic.
Anyway, at almost six acres, the garden contains five! different varieties of traditional Japanese gardenscapes. They each have their own aesthetic and section of the grounds, but everything is so artfully arranged that they blend into one another almost seamlessly. Because it was SO sunny today, all of the colors were extra concentrated; everything felt especially fresh and verdant. Although I wish that the average person had a better sense of how they should act in a public garden/space (hot tip: it is NOT okay to squat down in the middle of a narrow, one-way footbridge to take crappy pictures of koi with your camera phone for 60+ seconds while other people are waiting behind you – also, DON'T pick flowers/leaves!), Stephanie and I were able to find lots of little "hidden" benches to sit on and enjoy some fleeting moments of serenity. I would definitely be interested in visiting again – especially during a different season.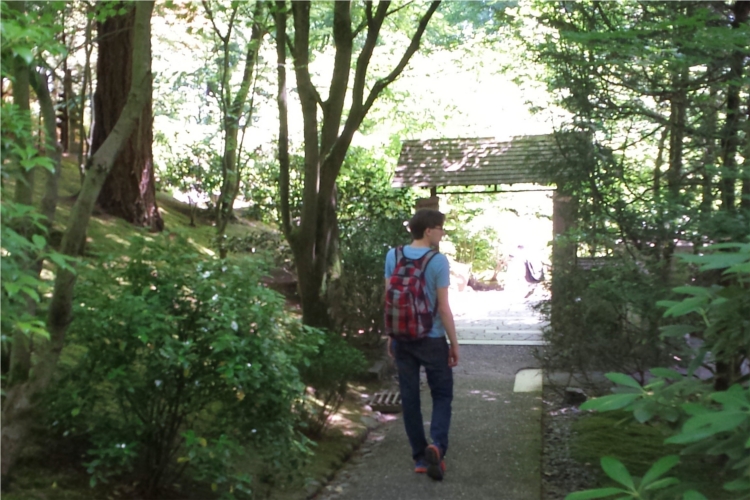 Exploring the shadowy paths of the Natural Garden.

After we finished touring the Japanese Garden, we went down to the International Rose Test Garden. The Internet tells me that this garden contains over 7,000 rose bushes of approximately 550 different varieties. "Peak bloom" generally occurs in mid-June, so we lucked out and timed our visit perfectly. There were hundreds of people slowly walking up and down the gently sloped hill between beds of roses. Most people carried cameras, but a few held parasols above their heads to keep themselves cool. The fragrance of sooooo many flowers, combined with the sunshine, created a particularly festive atmosphere. If everyone had been dressed in their best formal wear, it wouldn't have been to hard to imagine that we were all attending some elaborate garden party. There was even a harpist performing in the amphitheatre!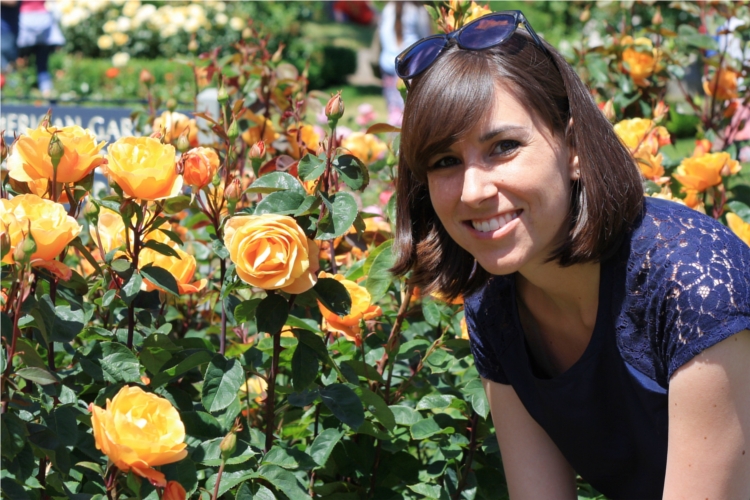 Stephanie with one of her favorites.
Before we returned to Seattle, we stopped and grabbed an early dinner. We found a taqueria with a nice outdoor patio area in the Alphabet District and ate in the sunshine. I got a taco combo plate with one barbacoa taco (my favorite taco fillin'), one carnitas taco, and one pescado taco (meat #27!). These were a little small, but pretty tasty. Traffic wasn't too bad on our drive north and we made it home safely without incident.
Thanks for the wonderful weekend, Portland!
— — —
Miles run in 2014: 145.5
Books read in 2014: 37