Earlier this week (on Wednesday), Stephanie and I agreed to go on an impromptu vacation this weekend down to Portland. We'd been thinking about doing this since February, and the weather was forecast to be so nice this weekend (75-78 °F and sunny), so we reserved a hotel room for Friday and Saturday night. We ended up leaving early this afternoon, just a little after 12 pm, because we wanted to try and miss as much traffic as possible. Without any congestion on the road, the trip from Seattle to Portland generally takes about three hours. Although we made fairly good time for most of the way, there was a big ol' accident just south of Tacoma, so it ended up taking us about three and a half hours. To help pass the time, we busted out some super fresh road trip tunes.  These consisted of Dormarion by Telekinesis, The Bones of What You Believe by Chvrches, Passive Me, Aggressive You by The Naked and the Famous, When It Was Now by Atlas Genius, and Lungs by Florence + the Machine. All of these albums are catchy and upbeat and lovely to drive/ride along to.
Once we crossed into Oregon, instead of driving straight to our hotel to check in (we're staying about 20 minutes east of Portland), we continued up the Columbia River Gorge on I-84 for an extra half an hour and went and hiked around Latourell Falls. This waterfall plunges 224 feet (or 249 feet, depending on which part of the internet you choose to believe), cascading straight down off of a huge column of basalt. It is exceedingly impressive. And beautiful. And awe-inspiring. Also, the trailhead/parking lot is located only a short walk from the base of the main falls; if you're itchin' to see some impressive nature-y stuff, but are disinclined/unable to go hiking, this seems like it'd be a pretty good place to visit.
Latourell Falls is only 42 times taller than I am! This image captures the lower ~1/3 of the waterfall.
Stephanie and I, however, did come to hike, so we hopped on the loop trail that climbs to Upper Latourell falls. The roundtrip trek is about 2.5 miles and gains ~520 feet of elevation. It's certainly not a strenuous hike, but I probably wouldn't rate it as being "easy". The way up isn't particularly well marked, with lots of "unofficial" offshoots, but we made it to the top without too much backtracking. Upper Latourell Falls is about half as tall as the main falls and has some swoopy curves along its drop. Despite being somewhat less impressive, I think I actually enjoyed the upper falls more; I thought that its meandering descent made it more visually appealing. In any case, we had very nice conditions for the hike. The weather was warm, but there was a slight breeze to keep the bugs down, and although it was a late Friday afternoon, the trail was pretty empty. I don't think we passed more than four or five groups of people on the entire hike.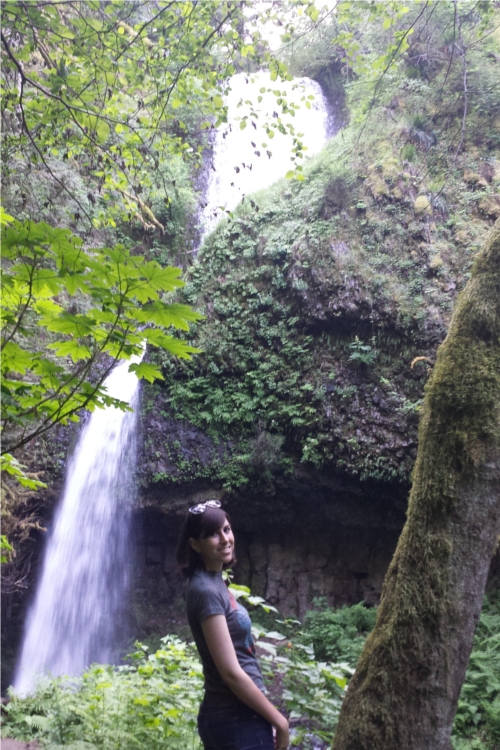 Upper Latourell Falls (left) & the stream beginning its 250′ descent from the top of the Main Falls (right).
Once we got back to the car it was already after 6 pm, so we decided to go check into our hotel and head into Portland to find some dinner. For the trip back west, we forewent taking I-84 and opted to follow the aptly named Columbia Gorge Scenic Highway. This is a fairly labyrinthine route that teeters along shoulderless cliff faces and has navigates many blind curves and narrow bridges. It was way better than the interstate.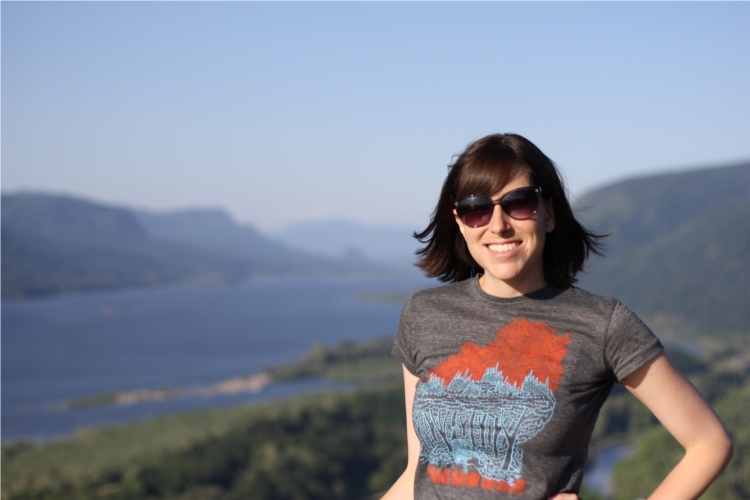 The view from Vista House, a scenic overlook along the Columbia Gorge Scenic Highway, sure isn't bad.
The last time we were in town, we happened across The Bye and Bye (a vegan bar in northeast Portland). Their victuals and their vibe were both quite good, so we elected to go back tonight for dinner. Stephanie got their Eastern Bowl (Portland has a crazy strong food-in-bowls presence), which came with approximately seventeen pounds of nutritional yeast-breaded tofu, broccoli, and brown rice with a tasty ginger-peanut sauce. I got the Weeping Tiger Sandwich which layered marinated tofu cutlets with lettuce, tomato, avocado, jalapeño, and Sriracha/miso mayo. Both entrées were very good. I also had an "adult" slushy made with gin+cucumber+mint. It was super refreshing: a perfect summery beverage to end a wonderful summery day.
Pretty excited for some food and drinks. And Sriracha!

We were a little pooped from all the sitting/driving/hiking, so we called it an early night and drove back to our hotel once we finished eating. Stephanie was looking forward to floppin' into bed and watching some HGTV… but our hotel's cable subscription didn't include this channel, so we had to settle for the Food Network instead. Despite this disappointment, today was definitely a good start to our mini-vacation.
Note: Once again, although I'll be writing/finishing these posts once I'm back in Seattle, I'll be pre-dating these to the date on which things actually occurred.
— — —
Miles run in 2014: 145.5
Books read in 2014: 37