Today we flew down to San Diego to attend the wedding of one of Stephanie's cousins (the wedding is tomorrow). We'll be hanging out in Southern California until Tuesday (3/18) at which point we'll drive to Tucson with Stephanie's parents. Then we get six more days of vacation (so much sun!) before heading back up to Seattle on March 25th. I'm excited!
We woke up early this morning (~6 am) and hopped a bus and then a train to get to the airport for our 10:20 am flight. The light rail in Seattle actually makes it super easy to get the airport via public transit, which is much better than paying the ~$40 cab/shuttle fare. We had a 2.5 hour layover in scenic Sacramento along the way. While we were waiting in the airport, I had the biggest, cheesiest, greasiest quesadilla of my life. It was good in that it was stuffed with green chile and came with a heaping serving of guacamole, but bad in that it had lots of onions and likely clogged several of my arteries. We also hung out at a bar in the airport and watched some of the Big Ten men's basketball tournament (Ohio State beat Nebraska). It was probably ~the most pleasant two hours a person could spend in Sacramento.
Lemonade and Monkey Knife Fight (American Pale Ale) from Sacramento-based Rubicon Brewing.
We got in to San Diego a little before 4 pm. It was warm (71 F!) and sunny and sooo different from the weather we'd left behind in Seattle. Stephanie's parents picked us up and drove us to our hotel. We're staying at the Embassy Suites which was a little old but HUGE. It probably has ~400 rooms. We get to stay on the top (twelfth) floor, which provides a pretty nice view of the surrounding city.
For dinner, we went to the Liberty Station location of Stone Brewery. This place was incredible. The architecture and the landscaping were amazing. Inside there were vaulted ceilings and interesting light fixtures and miles of exposed beams and outside there were winding waterways crossed by bridges and Adirondack chairs constructed out of old whiskey barrels. There were also a couple of complimentary bocce courts. It was a pretty magical place; the food/drink could've been terrible and it still would've been worth the trip… fortunately, everything we ate and drank was very good, too. They had 40 beers on tap, which made choosing what to drink quite difficult, but I ended up getting a cup of Matt's Burning Rosids Imperial Cherrywood-Smoked Saison and a pint of Smoked Porter with Toasted Hazelnuts (a cask beer). Both were good, but the saison was particularly tasty.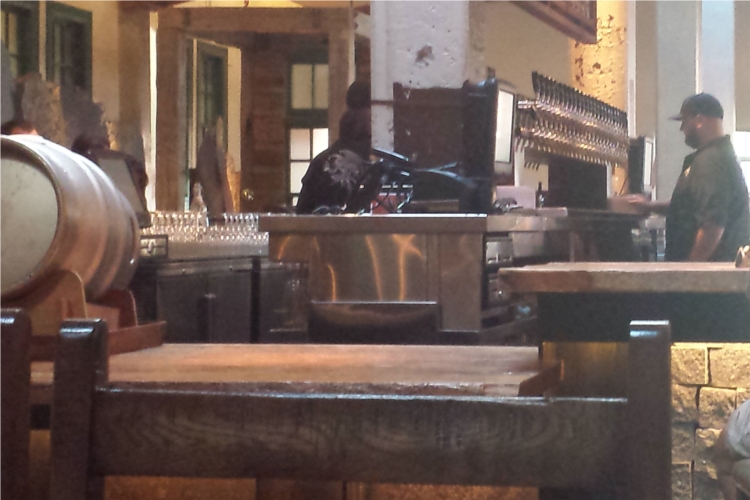 40! tap bar.
The Meat I Eat #12: They didn't have many veggie options, so I ended up ordering their poke tacos for dinner (spicy yellowfin tuna, sesame-soy vinaigrette, wakame, and smashed avocado). These were VERY good. I also tried a few quail knots (fried quail quarters with a Sriracha-honey glaze – almost like a spicy quail version of a chicken wing) and some of their baby back ribs. Normally when we go out, it's just Stephanie and me, so there aren't other people offering to let me try their meaty dishes. As such, while we're in San Diego, I anticipate indulging in meat a bit more often than I would otherwise…
After dinner, we went and grabbed a couple more drinks with the wedding party. They're staying in a moderately swanky hotel down in San Diego's Gaslamp Quarter. We hung out in the rooftop bar and enjoyed the warm weather and the stars. Cities are definitely prettiest once the sun goes down. I got to meet some more of Stephanie's family and everyone seemed genuinely nice and friendly. All in all, today was a lovely way to start my vacation. Woo!
Note: Although I'll be writing/finishing most/all of these posts after I'm back in Seattle, I think I'll pre-date these to the date on which things actually occurred.
— — —
Miles run in 2014: 96.4
Books read in 2014: 21