Today was a little more low-key because we were pooped from driving/sitting in the sun so much yesterday. As such, we mostly just bummed around Tucson. After a leisurely breakfast, we decided to go play some putt-putt at Golf N' Stuff in town.
This place had two courses that were full of both classical/whimsical holes where you hit the ball around/into obstacles (castles/windmills) and also simpler, more straightforward holes where the only features were strategically placed blocks or bumps/valleys in the turf. It was fun. It wasn't toooooo crowded and we only had to wait to play about half of the time. The last hole on the first course had that thing where you shoot your ball and then it's lost/collected by the course operator, but of course we just skipped this hole and snuck around and played the second course, too… Our scores were pretty close after the first round, but Stephanie faded down the stretch and ended up losing by ~10 strokes. We did, however, each get a couple of holes in one because we're secret golf pros.
Shooting a ball at a castle (left) and a basket (right).
After we finished our two rounds of golf, we went inside and spent one whole dollar on a couple of arcade games. I opted to shoot some basketballs and Stephanie decided to race a race car. We were tempted to play some air hockey, too, but there were about fifty million kids running around, so we opted to leave.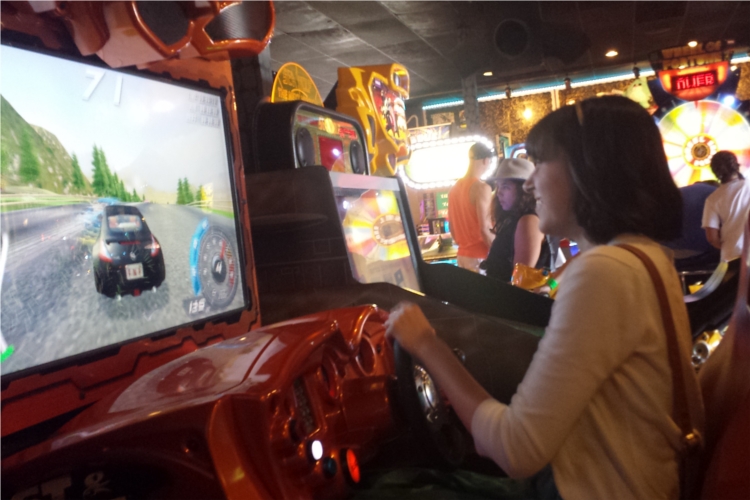 She came in 3rd place despite never shifting out of first gear…

After we left Golf N' Stuff, we were pretty hungry, but we decided just to go and get gelato instead of getting real food. We went to Frost, which is a cute/modern gelato shop, and got scoops of peach, blackberry, and chocolate hazelnut to split. That may sound like a somewhat odd flavor combination, but it was actually pretty tasty. The blackberry was my favorite. We also split a large iced Americano. Basically, it was the best lunch ever.
For dinner, we went to Lovin' Spoonfuls, one of Tucson's only vegan restaurants. We went with a couple of Stephanie's friends, one of whom is whole-heartedly vegan. It's always so easy to eat not meat when we hang out/eat with her. I really appreciate it. I ordered the Country Fried Chicken Platter. Although the "chicken" was only okay, the mashed potatoes and stuffing were both particularly good. After dinner, we went to Risky Business (a local sports bar) to watch some March Madness. We saw Michigan State beat Harvard and Connecticut upset Villanova. Both games were close/exciting. We also enjoyed a lot of beer (so much drinking on this vacation!) and french fries and chips and pitas and several varieties of hummus. It was a good night.
— — —
Miles run in 2014: 96.4
Books read in 2014: 22