Yesterday was a sad day. It was the first scheduled yard waste pickup of 2014. This meant that driveways and back alleys were littered with discarded Christmas trees.  I first noticed the vast amount of forlorn greenery while I was walking to the library. Once I got back home, I grabbed my camera and went back out for a walk around the neighborhood. It was windy and chilly, but it wasn't raining and I was bundled, so it was actually kinda nice. Although I could still make out quite a few trees inside people's houses through sliding doors and bay windows, I encountered more than 30 trees waiting for the woodchipper on my short walk (~a mile). Abandoned Christmas trees strike me as being particularly poignant, so I took some pictures.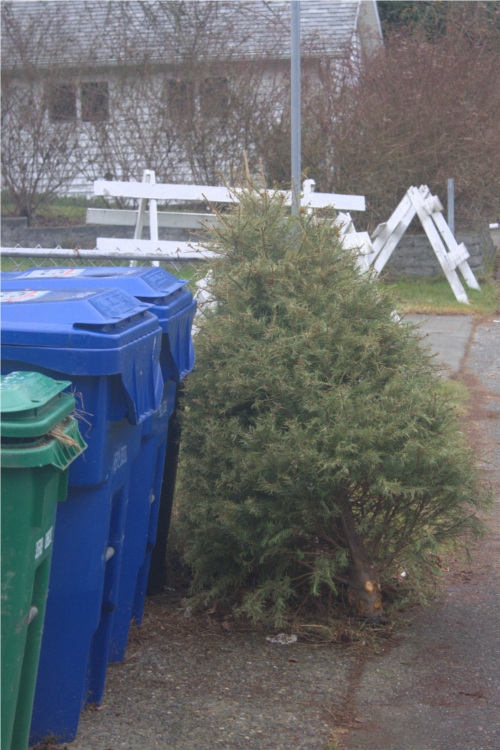 Seeing something that was enthusiastically celebrated just a few days before tossed out into the gutter without ceremony is a somewhat sobering reminder that things can go from great to not so great very quickly. I understand that it is completely silly for me to feel bad for these trees, but I can't help it. I also realize that real trees are much better than artificial ones in all of the ways. (Real trees 1. SMELL SO GOOD and are 2. renewable resources which 3. help support local farmers and 4. are environmentally friendly in that they 5. sequester carbon while growing and 6. biodegrade once they are discarded. Artificial trees are the antithesis of real trees. Think twice before buying an artificial tree!) It just kinda sucks that we tend to get rid of our Christmas trees without a second thought.
One year when I was little our family moved house just a few days before Christmas. We didn't have a chance to find a cut-your-own Christmas tree lot like we normally did. Instead, we ended up buying a smallish live tree (maybe 4 or 5 feet tall) from some nursery. We stuck it in the middle of our living room in a big pot, burlap-wrapped rootball and all, and surrounded it with presents. The day after Christmas (or whenever the ground thawed enough to dig a hole), we took it outside and planted it in the backyard. I lived in that house for more than seven years and I was able to see that Christmas tree just about every day. It was a special. I'm really glad that my family did that. Maybe it's because I was seven years old that year (which is pretty much the best age for squeezing the maximum joy out of Christmas), but that Christmas is the one that I remember the most fondly/vividly. Using a live Christmas tree and then planting it after the holidays is absolutely something that I look forward to doing again in the future.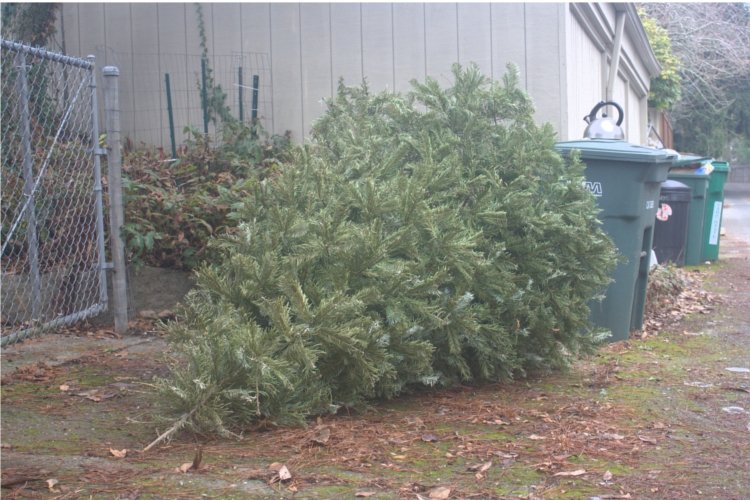 Christmas trees in January engender as much reverence as a cracked tea kettle.
— — —
Miles run in 2014: 9.2
Books read in 2014: 4