Today was our last full day in Tucson. We decided to go spelunking (which for us means walking around on a guided tour in a cave for 90 minutes) and visited Kartchner Caverns State Park. This place is one of the most extensive living cave systems in the country (more than 2.5 miles of passageways!) and has a ton of rules/regulations in place to keep it as pristine as possible. You're generally required to buy tickets ahead of time and need to arrive at least an hour before your scheduled tour, so once we arrived we had some time to kill. We peeked in to the little museum and walked around the butterfly garden until it was our turn to spelunk. There are actually two different tours you can sign up for at Kartchner Caverns: The Big Room and the Rotunda/Throne Room. We had tickets to visit The Big Room. Once the tour guide learns everyone's name (so she can yell at you if you try to touch anything), you board a little tram that takes you several hundred yards up the hill to the entrance, where you descend into the mouth of the cave…
As we progressed on our tour, the guide pointed out many of the particularly impressive features (there were a lot!) which ranged from massive stalagmites to tiny, delicate "soda straws" that descended tens of feet from the ceiling. To think about how long it took these structures to form boggles the mind. Also, because it's a living cave, several of the stalactites were currently wet and dripping; you wouldn't expect a group of people to be excited about patiently/quietly standing in a circle for several minutes just to watch a single drip of water, but that's totally what happened. Everyone seemed to be absolutely captivated by the complete majesty of the cave. It was nuts. It may seem like I'm being hyperbolic, but I promise you that I'm not. And the overall size/scope of this place! It just kept going and going… and from the outside, you have literally no idea that something so rare and beautiful and inspiring and mysterious is right below your feet; it just looks like you're standing on some whatever hill in the middle of a cattle range. It's crazy. If you're ever in the Tucson area, I'd definitely recommend checking this place out.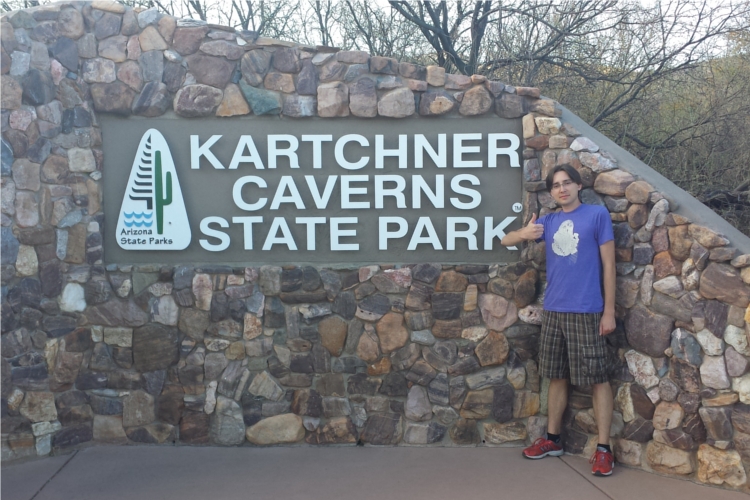 Cameras weren't allowed in the cave, so this is all you get to see.
Once we got back to Tucson, it was time to meet up with two of Stephanie's friends for dinner. We went and got Mexican food at La Indita – a small restaurant downtown near the U of A campus. I got… a chile relleno. But this one was actually pretty disappointing! The breading was way too dense and the sauce was entirely lackluster. I'd actually been to this place on my last trip to Tucson and it was quite good, so maybe their food prep is just really inconsistent?
After dinner, we walked across the street and went to Mr. Heads (art gallery and bar) for trivia. It was actually their first official night hosting trivia, so turnout ended up being a little sad, but that just meant less competition. Because there weren't a ton of people, the four of us ended up splitting into two groups. Ashely and I formed one team while Stephanie and Jessi made up another.
Ashley and I were 'The A-Team'. This led to these (unfortunate) hand gestures. We're also 100% badasses.

The questions were pretty random and a lot of them were fairly dumb. There were eight rounds, so trivia was a little bit intense and went on for quite awhile. Ashley and I completely bombed the music section (bands/songs with insects in the title?), but we crushed the visual round where you had to identify the Sean Connery film by looking at a still from the movie (thank you Campus Video!). Overall, Ashley and I didn't do very well (I think we got maybe 55 out of 80 points), but we still managed to win. Woo!
Jessi and Stephanie came in second place.
There wasn't actually a grand prize for taking first place (because they were so disorganized), but I did win four "penny pints" by being the first person to answer four of the "bonus/lightning round" questions. I shared these with Ashley and Stephanie and Jessi because I'm such a nice guy/I didn't wanna get crazy tipsy. Stephanie also won the door prize (a squirrel coffee mug; it's not as cute as it sounds), so we were all ~big winners tonight. It was fun and although the bar was a little skeezy I would definitely go back again for trivia. (I should note that these last two photos are particularly low-quality because they were stolen from the Geeks Who Drink website. They were the group that hosted trivia.)

This San Diego/Tucson vacation has been a lot of fun, but I'm looking forward to going home tomorrow. We've been doing so many things! I kinda just wanna curl up for a few days and read a bunch of books and drink a bunch of coffee/tea…
— — —
Miles run in 2014: 96.4
Books read in 2014: 22