I had a buddy (Bryce) from out of town come and stay with me last week. As such, I ended up going out to eat a bit more often than I would've if I hadn't been entertaining. This resulted in the consumption of some meats.
Monday, May 6th, 8pm:
For dinner, we went and tried Mio Sushi up by Green Lake. Stephanie and I split some veggie rolls (tons o' avocado!) and Bryce and I split some fishy rolls. The veggie rolls were good, but the fishy rolls weren't quite right… it's probably because we ordered stuff that was a bit more exotic (e.g. the Banzai roll  which had shrimp tempura, avocado, cucumber, spicy tuna, tenkatsu, and a sweet chili sauce). They didn't taste bad – they just didn't really taste anything like sushi. Anyway, I didn't love this place, but I'd be willing to go back again and try some more traditional rolls before I dismiss it entirely.
Wednesday, May 8th, 3:30pm:
After a nice afternoon spent walking around Magnuson Park (where we saw some bald eagles, quail, a naked sunbather, and three million puppies), we headed down to The Ram at University Village to watch some baseball (the Mariners were playing a doubleheader in Oakland). While we were hanging out, we ordered some buffalo waffle fries and some hot wings. Both of these make excellent sports-watchin' snacks. They were also both spicy and salty and delicious.
Friday, May 9th, 12:30pm:
For lunch, we swung by the Ave and got some Indian food (at Shalimar). I ordered their chicken tikka sandwich (one of my favorite lunch dishes in Seattle) which is a big ol' piece of naan covered with jasmine rice and curried veggies (peas, chickpeas, and carrots) and lettuce and tomatoes and spicy chicken all drizzled with some spicy ranchy sauce. It's delicious. After eating, we went downtown and mosied around the market for a couple hours because Bryce wanted to get some touristy souvenirs to bring home to some loved ones. We also got a dozen of those little, freshly made donuts (if you've been to Pike Place, you know the ones). With cinnamon sugar! Once we finished eating/digesting, we walked down to the stadium district and hung out at the Pyramid Alehouse until the gates opened at Safeco Field.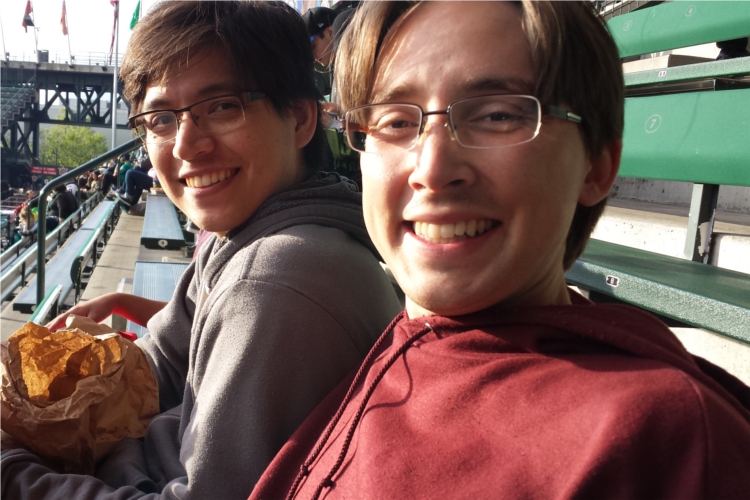 Enjoying some pre-game sunshine.
I managed to stay away from any more meats inside the ballpark; I got a slice of wild mushroom pizza and some fried pickle spears. (Safeco has some fancy snacks.) Despite the fact that the Mariners lost 6-1, it was still a fun evening.
The (briefly sun-kissed) view from our seats. The center field bleachers aren't bad for catchin' a game.
— — —
Miles run in 2014: 132.7
Books read in 2014: 29