Another meaty weekend!
Thursday, March 6th, 5pm:
We went down to Key Arena to watch the second session of the Pac-12 women's basketball tournament. Beforehand, we stopped at Blue Water Taco Grill for dinner. Their barbacoa is DELICIOUS, so I got some barbacoa "street tacos". In this instance, I think barabacoa simply implies slow-cooked, seasoned beef. It's salty and a little greasy and delicious. This place is great because during happy hour you can get 3 little tacos (on ~5″ corn tortillas), topped with a boatload of cilantro and pico and salsa, with an ample side of rice and black beans for only $5. They also have $3 margaritas and $4 mojitos, so we got one of each and split 'em. It was all super tasty. Then we walked the three blocks over to Key Arena and watched Washington State play Oregon and the University of Washington play Utah.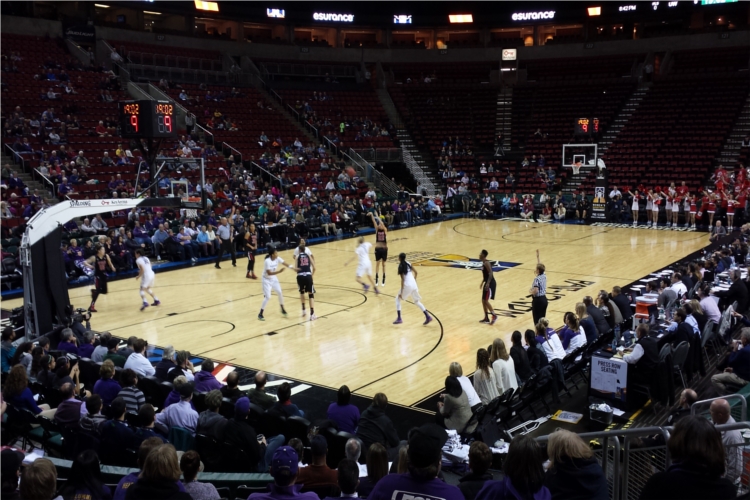 Action shot! Utah had two women who were 6'4″ or taller. UW did not. That's probably why they lost.
Both games were entertaining and fairly close. Of note, the WSU vs Oregon game was 107-100! which is ridiculously high scoring for a college basketball game (which made it particularly exciting). The Huskies lost their game, which was disappointing, but it was still a lot of fun.
Saturday, March 8th, 6pm:
One of my friends turned 30!!!! this weekend, so we had a potluck dinner/birthday celebration for her. I made some sparkling white wine sangria (with frozen raspberries and blood oranges) and asparagus+crescent roll+prosciutto appetizers (this is a super easy recipe that my mom mentioned to me; I also made these sans prosciutto so Stephanie could eat some and sans crescent rolls so our gluten intolerant friend could eat some). I also brought some fancy cheeses and salami to share. Stephanie made a mushroom and spinach risotto.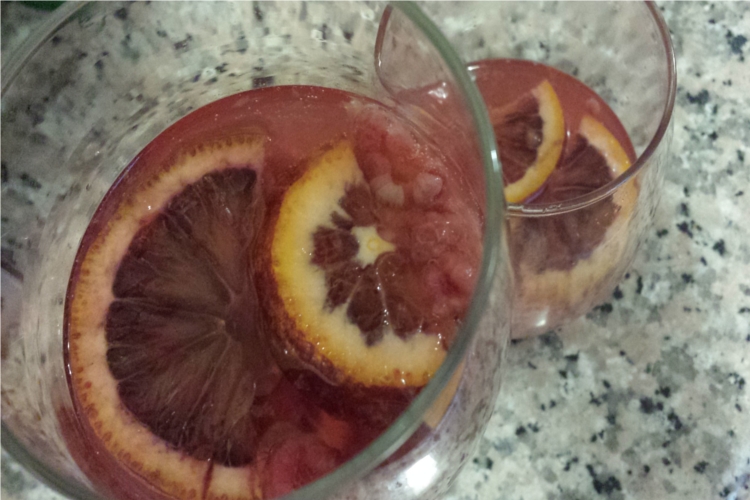 The sangria was finished with some triple sec and orange-flavored seltzer.
There was also a bunch of other food: home-made chicken wings and pineapple tequila (all the booze got soaked up into the chunks of pineapple – they were strong!); queso dip (Velveeta, spicy sausage, and salsa melted together in a crock pot – so good!) and a white cake with clementine custard? and something-buttercream frosting? (it was fancy); some cheesy, sausagy, root vegetably casserole; and lots of wine/huckleberry vodka/Fireball cinnamon whiskey. We cooked and talked and ate and drank and played games. I tried all of the foods and all of the drinks. It was great!
Sunday, March 9th, 12:30pm:
Stephanie and a bunch of her friends went out to brunch. They neglected to invite any fellas along, so me and a couple of my boy friends went and had a brunch date of our own. We went to the Elysian Brewery. Their beer is quite tasty (probably my favorite Seattle-based brewery), but brunch was only okay. The company was great, but all of the food seemed a little bit overly fancy and a little bit expensive; I got the eggs+sausage gravy+biscuits, which was pretty good, but the gravy was orange-flavored (weird) and it was a little one-note. Also, the fruit salad that it came with it featured lychee, which I think appropriately represents the overall tone of the meal. Afterwards, because it was so nice out (upper 50s and sunny), we went to the little par 3 golf course just down the road and engaged in some good ol' pitch 'n putt. It was pretty soggy, and putting/chipping was ROUGH, but it was still fun.
— — —
Miles run in 2014: 91.2
Books read in 2014: 19