Today, Stephanie and I were mountaineers!
(Not really. But maybe a little bit?)
We drove up the Catalina Highway to Summerhaven, which is in the Santa Catalinas near the top of Mount Lemmon. This would definitely be classified as a "scenic drive". The road dips into and out of bits of the Coronado National Forest and has several vistas/overlooks on its shoulders.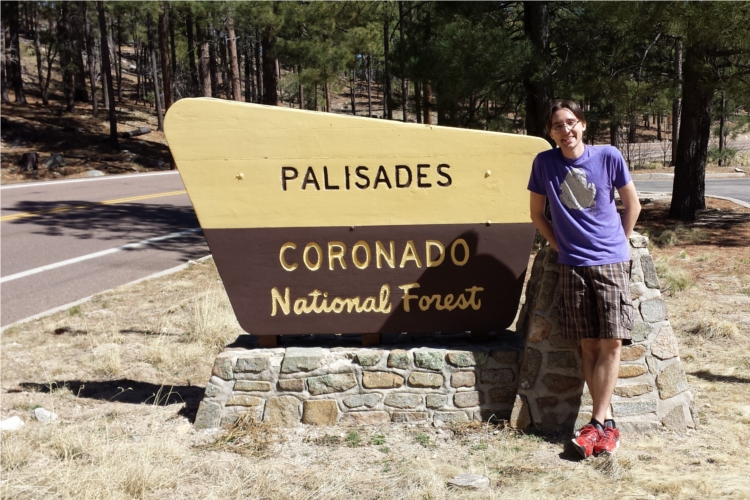 In front of the visitor center about halfway up the mountain.

The highway was basically carved into the side of the mountain and winds its way up in a series of switchbacks and curves, traversing a pretty impressive change in elevation. Downtown Tucson sits at ~2,500′ above sea level whereas Summerhaven is at ~8,500′ (the summit of Mount Lemmon has an elevation of 9,159′). The route is fairly long (22.6 miles) so the grade (~5°) wasn't too terribly steep at any given point, but it was still a pretty daunting climb. We passed several cyclists as we were driving up – those people are clearly nuts.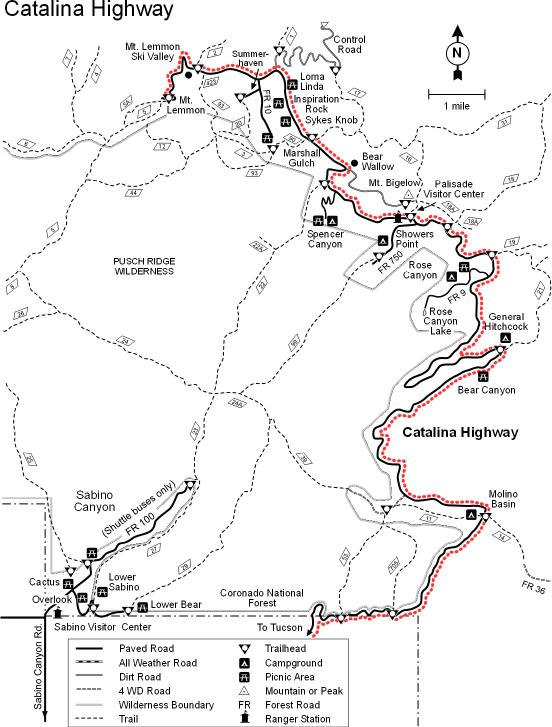 So many trails! I bet hiking those would be fun, but I think I'd be a little worried about rattlesnakes…

There were lots of campsites and trail heads just off to the side of the road; we didn't do any hiking, but we did stop several times to look around/take pictures. Because the road didn't really just stick to one face of the mountain, it provided panoramic views in multiple directions. The view changed a lot; to the south you could see a lot of the roads/buildings of Tucson, but to the north all you could see was a vast expanse of rugged wilderness. The vegetation also changed a ton as we went higher and higher up the mountain. Cacti and shrubby bushes gave way to stands of ponderosa and Arizona pine. A handy sign at the visitor center informed me that the top of the mountain receives about three times as much precipitation compared to the valley below (~10″ vs. ~30″ annually); this is the main reason for the dramatic transformation in the flora found at the different elevations.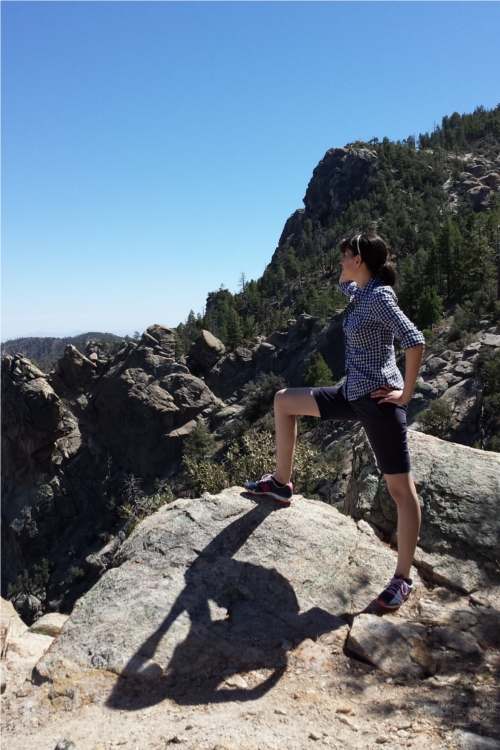 Surveying the landscape to the north (left) and enjoying the view to the south (right).

One of the vistas that we stopped at opened out onto a big sheet of rocks, so we ventured up to scramble around a little bit. There were a ton of really interesting rock formations that contrasted so sharply against the bright blue cloudless sky behind them. People were climbing/bouldering on some of these, which looked fun but also scary.
Doing my best mountain goat impersonation. Or maybe I'm more of a bighorn sheep?

It took us a couple hours, but we did eventually reach Summerhaven. Our original plan was to grab some lunch up there, but we didn't feel like paying $5+ for small, greasy slices of pizza, so we decided to wait until we got back in to town. As impressive as driving up Catalina Highway was, I think going down might have been better. The valley really opens up below you and you can see a long, long way. Tucson is extraordinarily sprawly, and a little gross, but from so high up and from so far away it was pretty picturesque. I imagine that the view at night, with the city all lit up, is breathtaking. Anyway, the drive back down went a lot faster because we didn't stop at any of the pullouts/viewpoints. However, it was way scarier passing cyclists on the way down because they were all going sooo fast and it was hard to pass them because so much of the road was super curvy. But we made it!
For lunch we went to Eegee's. This is a small, locally owned sandwich chain that is unique to Tucson. It's one of Stephanie's favorite lunch restaurants, partially because she went there all the time after playing softball when she was younger and it's all nostalgia-y, but it's actually quite tasty. Their veggie sandwich is tangy and refreshing (and has carrots!) and their french fries were really good. We also split a large half strawberry, half lemon eegee. An eegee is kind of like a Slurpee/Icee, but it actually tastes… real. And they're so inexpensive! You can get a liter of the stuff for like $3. Every once in awhile you'll come across a lemon seed or bit of strawberry rind, which at first seems like a bad thing, but then you realize that it just means that they use actual fruit! After we ate, we watched a little basketball and lazed around.
We met up with a couple of Stephanie's friends for dinner and went and got sushi at Yoshimatsu's. We ordered so much food! (Again, all we do is eat.) We all split a bunch of veggie rolls and some fried rice; there was an abundance of avocado and shiso and plum sauce and tofu and edamame and cucumbers and so much more… After dinner, we went and grabbed some drinks at the Old Chicago just down the street. I was happy/surprised to see that they were serving Bells, which I've yet to see on tap in Seattle, so I got  a pint of the Two Hearted. It was good (as always). I also got an order of fried pickle chips! Yummmmmmmmm.
— — —
Miles run in 2014: 96.4
Books read in 2014: 22