Today we drove the 400+ miles from San Diego to Tucson. Stephanie had estimated that it would take ~7.5 hours (with stops), but it ended up taking less than six (Stephanie's dad drives fast…). We checked out of our hotel and left at 9:30 in the morning. However, before we took off, we stopped in at San Diego's Donut Bar for some coffee and donuts. One of Stephanie's cousins had stumbled across this place earlier in the weekend and he said it was top-notch so we wanted to check it out. His endorsement was not unfounded.
Chocolate Twix (lower left), chocolate euphoria (right), and vegan! banana caramel (top) donuts.
These donuts were big league. I got the banana caramel cake donut and it was delicious. It was the perfect denseness (which I think is probably the most important property of a good donut), it wasn't greasy (something that I've found to be a common problem for many vegan donuts), and it wasn't too sweet. The banana flavor was fresh but not overpowering. And caramel sauce! Stephanie got the raised chocolate euphoria and Stephanie's mom got the chocolate Twix cake donut. They both seemed to enjoy them. Stephanie's dad had leftover pizza for breakfast, which is something that I'm generally on board with… but not when there are fancy donuts to be had!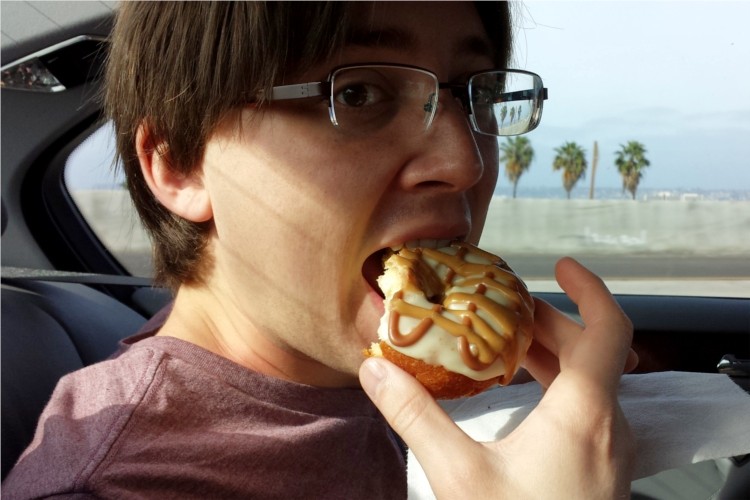 It took me exactly 17 seconds to finish my donut.
For lunch, after driving for about 3.5 hours, we stopped in Dateland, AZ and got some Quiznos sammiches. I got a turkey bacon ranch (with avocado!)… which means that I've had meat FIVE days in a row (today is #16 this year). It's a little absurd that I ate meat EVERY DAY while we were in San Diego because it's certainly one of the more veg-friendly cities in the country. I'm such a disappointment. I'll make a more concerted effort to avoid meat while we're here in Tucson.
Once we got to Stephanie's parents' house in Tucson, we stretched our languorous bodies on their shady back patio and enjoyed the sensation of not bumping along in a car at 80-85 mph. We had a few snacks. And some local beer. It never quite makes sense to me how tiring it is to sit in a car for an extended period of time (it's just sitting!)… this sensation is particularly bad when you've been smooshed awkwardly in the back seat. Once we recovered, we went out and got some dinner because ALL WE DO IS EAT.
We went to La Parilla Suiza. It was great! It turns out that there are folks in Tucson who are pretty alright at making Mexican food. This is not really a thing that is common in Seattle, which is a shame because Mexican cuisine is the best. Once again, I got a chile relleno. It was MUCH better than the one I had yesterday. Not too eggy, not too breading-y, and their relleno sauce… it was spicy+salty+tangy+flavorful. So good. Stephanie and I also split a small pitcher of sangria (it wasn't very complex or boozy, mostly just sweet, but for $8 – just $2 a glass – it was pretty amazing).
— — —
Miles run in 2014: 96.4
Books read in 2014: 22