Happy Saint Patrick's Day! In case you were worried, I did remember to wear green and avoided receiving any pinches. However, I did not spot any leprechauns.
Today we went and hiked around Torrey Pines State Natural Reserve. Once again, we were accompanied by Stephanie's parents. The drive out to the reserve from downtown only took about half an hour, so we were able to get most of our hiking in before it got too too hot.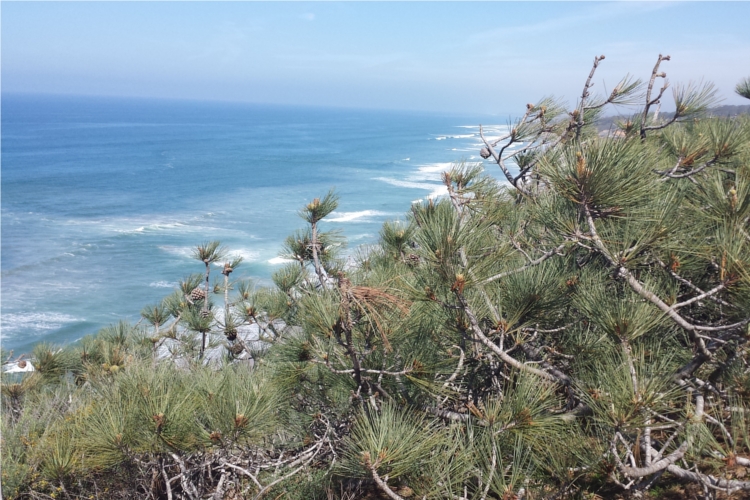 The iconic conifers that give Torrey Pines its name. These trees are only found in two places in the world.

The park is situated right on the Pacific Ocean, just north of the beautiful/historic Torrey Pines golf course. Most of the reserve sits up on top of some cliffs/bluffs and provides a really scenic view of the water/waves below. There are several short trails; we managed to walk along most of them.
We hiked the Guy Fleming, Yucca Point, Beach, Broken Hill, and North Fork Trails.
While we were hiking around, we also stopped at several of the viewpoints. Both of Stephanie's parents are enthusiastic shutterbugs, so we generally wouldn't go more than 100 feet without someone stopping to snap a picture (or twenty). On some hikes I might find this slow/deliberate pace to be a little bothersome, but it was actually perfectly suited for today. The light breeze and the sound of the waves and the clear sunlight all combined to create a very calming, mellow, moderately contemplative mood. There were several other people walking around the park, but it really almost felt like you were out there by yourself. I'd definitely recommend checking this place out if you're ever in/around San Diego.

Looking out at the Pacific (left) and considering how to get to the Flat Rock sea stack (right).
In our party, I was the only one who hiked all the way down to the beach – I'm of the opinion that you can't go to the ocean and not at least stick your hand/foot in the water! The tide was more than halfway in and the surf was relatively rough (we'd read that waves were expected to be 7 to 10 feet and there were some surf advisories) so I got splashed a little bit as I walked out to the point. I always get a little wobbly when I'm standing right in front of the ocean (especially with a fairly large/sheer cliff face looming up behind me) because it's so big and heavy and loud and everywhere. It's a weird feeling, but one that I enjoy (in small doses).
The park provides panoramic views that are rich in starkly contrasting natural beauty.
While we were walking around, we also saw a TON of birds. I counted at least 16 members in a squadron of brown pelicans that was flying up and down the coast and there was a Cooper's hawk that alternated between circling above our heads and perching on the top of a big ol' lightning-struck pine tree. There were also countless other smaller birds as well that were more difficult to identify… I feel like a birdwatcher would be deliriously happy at Torrey Pines. As for furry critters, we saw several ground squirrels who were unafraid enough to make me suspect that someone hadn't been following the "Don't Feed the Wildlife" signs… As great as this vacation has been so far, I think that visiting Torrey Pines might have been my favorite thing that we've done.
On the way back in to town we stopped at a little Mexican restaurant for lunch. I got the "South of the Border" plate which included a cheese enchilada, a chicken taco (meat #15!), and a chile relleno. Chile rellenos are my favorite dish at Mexican restaurants. I like to get them whenever I go some place new; they're pretty much my metric for determining how tasty a Mexican restaurant is. Unfortunately, lunch turned out to be fairly mediocre. Their verde sauce was pretty tasty, though. Also, they had one of those fancy Coca-Cola Freestyle machines that dispenses 125+ types of soda pop. I got lime-flavored Coke because it was green(ish) and St. Pat's.
After lunch, we decided to head over to Coronado Island and check out the Coronado Brewing Co. brew pub. It was a pretty neat place and their beer was generally very tasty. Also, it's great when you go out with three other people, because it's so much easier to sample a greater variety of beer! Their Orange Avenue Wit was quite good (a lot like Blue Moon but with a slightly sweeter citrus flavor) and their Blue Bridge Coffee Stout was maybe the best coffee stout I've ever had. I combined a mild smokiness with a really strong coffee flavor to produce a beer that I thought was superb. Stephanie really liked it, too.
For dinner, we went to a small Italian restaurant (Trattoria Fantastica) a few blocks away from our hotel in Little Italy. (Stephanie and I only stayed at the Embassy Suites for the first two nights – after that, we'd reserved a room at the Urban Boutique Hotel. It was a lot smaller, but a lot cuter.) I tried to order a glass of the house chianti with my dinner, but the waiter told me that it was "a little harsh" and that he'd bring me a "nice" glass of wine instead. I have no idea what I ended up with (or how much it cost…), but it was fairly fruity and I enjoyed it. I was pretty full from the late lunch and the beer at Coronado, so I had a light(ish) dinner of soup (minestrone) and salad (vegetarian tritata – the dressing was super tangy, but in a good way). Stephanie got the gnocchi, which had a particularly tasty cream sauce. Overall, I thought that dinner was good but not great.
We'll be leaving San Diego tomorrow morning and driving to Tucson with Stephanie's mom and dad. Although we were only here for three and a half days, we really managed to do A LOT. I had a very nice time and would certainly consider coming back again.
— — —
Miles run in 2014: 96.4
Books read in 2014: 21